GUTTERING & GUTTER COVERS
Guttering & Gutter Covers
Gutters are an important part of your roof structure. Inefficient or ill-maintained gutters can mean substantial damage to your building, landscape and or basement. Mid-Kansas Construction is committed to being the #1 choice of gutter professionals in the McPherson and surrounding areas. At Mid-Kansas Construction we're experts in the installation & maintenance of quality seamless guttering.
We also offer gutter protection for your gutters to ensure that they remain free of debris and that the downspouts remain free-flowing. "Leaves Out" is a solid aluminum cover that fits over existing guttering. We stand behind our product and our customers are our top priority.
Mid-Kansas Construction is your source for quality seamless gutters and gutter protection. We offer free estimates, high-quality products and only the best in customer service and satisfaction. Our solid aluminum product is offered at a competitive price and backed by our own unprecedented warranty and money back guarantee.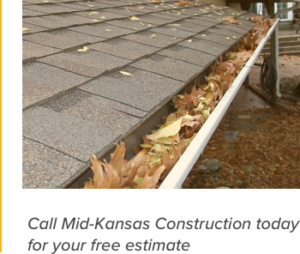 Types of Guttering
Mid-Kansas Construction installs two sizes of guttering systems for residential applications. Our guttering systems are available in 5" aluminum & 6" aluminum with a variety of color options.
Seamless aluminum guttering is the #1 choice of guttering installations on residential homes. Seamless aluminum guttering systems offer many advantages over other types of guttering, here are just a few.
•   Custom made at your home for your home
•   Continuous rain guttering eliminates unsightly seams and reduces the possibilities of leaks
•   Baked on enamel finish never needs painting
•   Will never rust
•   Many color options to choose from
Our Guttering Service
Guttering Systems provide a very important role in protecting your home. However, if not properly maintained, can have very adverse effects. Guttering Systems must be maintained. Primarily kept clean of leaves, birds nests and debris for positive drainage. If left unattended, the water could back up from the gutters, under the roof and cause interior damage to the home. Mid-Kansas Construction recommends an inspection schedule of twice per year, before Spring and before Fall. Call Mid-Kansas Construction to schedule your service today.
Gutter protection comes in a variety of styles. Mid-Kansas Construction offers different styles of gutter protection to suit your needs and budget. Listed below are the two different types of guttering protection we offer.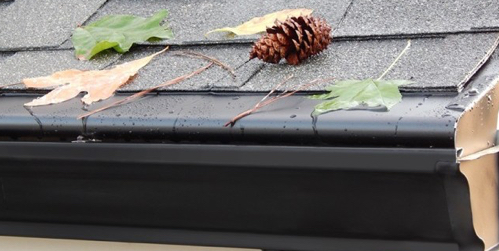 LeavesOut Gutter Covers are by far the most effective method of gutter protection on the market today. The entire top of the guttering system is covered preventing debris from entering. The solid aluminum cover fits over existing gutters and is attached with stainless steel clips, allowing the water to roll around the nose & enter the guttering system yet will not bypass the guttering through the properties of surface adhesion. This style of system costs the most upfront but pays off through the years as it will eliminate the annual cost of the regular maintenance schedule. Our Guarantee is you will not have a clogged downspout where LeavesOut has been installed. Ask your sales associate to see samples and help you choose the system that is right for you.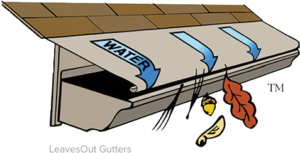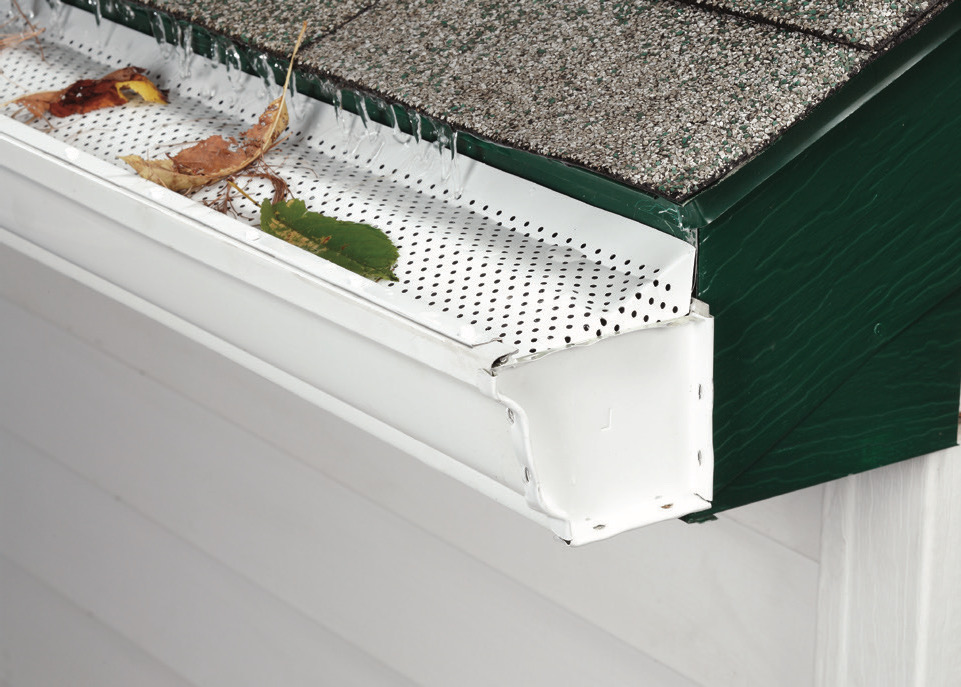 REAL Gutter Cover is an aluminum cover with drainage holes throughout. REAL Gutter Cover uses more holes per square inch than other competitors. These gutter covers are notched and formed in the field for a tight custom fit to deter pests and feature a bend that helps eliminate splash over. Keep your gutters clean and eliminate water damage caused by blocked gutters on your house and garage with REAL Gutter Covers.
Other Services
Light Commercial Construction
Design / Build
Framing
Sheds – Frame on Slab / Post Frame
Decks
Contact Us
Mid-Kansas Construction's management approach is to incorporate a team approach that promotes strong alliances between all parties. We collaboratively harness the talents & insights of all participants to optimize project results, increase value to the owner, reduce waste, and maximize efficiency through all phases of projects we take on. Our team will use its previous design/build experience & apply it to your project from design to completion.
If this sounds like a good fit… contact us with your project specifications!
GALVA LOCATION
335 E. Hwy 56
Galva, KS 67443
PHONE NUMBER
(620)-345-6507